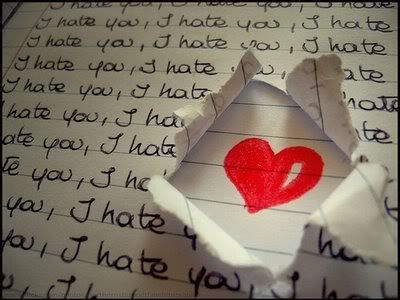 Language arts and math are the core of the core subjects, and the two subjects that present the greatest challenges to most students. In that respect, language arts most often presents a love/hate relationship to most people. They either love it and the English language's impossible grammar, or they hate it. Yet, I wonder – is there a way to make all learners enjoy language arts?
With the broad range of inifinte learning style possibilities, there is not too great a chance that we will ever find a cure all for the hatred of language arts, but in the meantime I think we can improve the general opinion. 
Language arts tends to be a "dry" subject.  The general study of spelling words, grammar, syntax, and parts of speech just dosen't lend much excitement.  However, coupled with a great reading curriculum,  excitement can be drawn into the "drier" side of language arts.  Yet, there are still other ways to bring excitement into the "hated" side of language arts. 
When I teach Language Arts,  I definitely steer towards a more interesting approach to teaching this subject, don't stick with a plain "text only" approach.  Mix it up – make it exciting – you will see a BIG difference in how children respond. We like to use as many language arts games as possible such as compound word games.  Make spelling interesting by using games to teach the words. I have mentioned Spelling City in previous posts, but it really does make a difference. Children's outlook on spelling has changed across the country in public schools and home schools because this program uses games to practice and quiz the student. Don't limit your creativity – if you can think of something to make it exciting – try it!  Children respond to someone who seems to enjoy what they are teaching – and they assimilate that excitement.  They see you excited about your subject matter, and they get excited… it's contagious.
If you enjoyed this article, Get email updates (It's Free)!