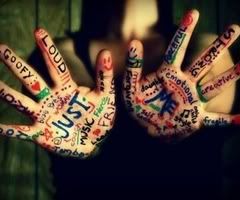 In this day and age when children are accustomed to being spoon fed entertainment, knowledge, and even life… it's hard to make independent learners. Yet, it is possible to establish a few routines in your homeschool day to turn a dependent crowd to independence. Since we are going back to school, and starting a fresh new year, let's talk about it.
Yes, I know- I am the mom. But that means different things to different people. To some, being the mom means that you are catering to every miniscule need that your children have, answering every homeschool question they run across, and even teaching them each subject in school. Personally, I find that I am not Wonder Woman and just can't keep up with those demands. Instead, I am attempting to get all of my children into a state of independent learning.  I say attempting, because it is a work in progress. My two oldest are just about there, while my two youngest are still pretty needy.  From homeschool language arts to mathematics and every subject in between – you can adapt it to be conducive to indepedent learning. I am teaching them- along with all of the other things they are learning- how to gain knowledge without my help. This involves a few simple guidelines.
I am trying to choose only curriculum that promotes self learning. By this, I don't mean that I leave my children alone to take care of their own education, but instead I am instilling in them skills that ENABLE them to learn without aid.
We have a simple rule, If you have a question about something in your school material  – look it up. Find the answer in the book, in another book, or online. Knowledge is at your fingertips – simply look for it!
Facilitate abundant reading! Have great books available to your children at all times. Foster a love for reading by showing them the example of a good reader in yourself!
Teaching them to be independent learners will not just help them here and now… it will ENABLE their future!